---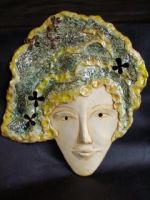 Show
March 3rd, 2020 - April 4th, 2020
Location:
River Gallery
184 S. Main Street
Independence OR 97351
Gerry Brehm is a local potter and a River Gallery Partner. His art pieces always surprise with his artistic skills and creativity.
Wherever the clay wants to take me. I consider the theme and follow the whims of the tools at hand and a positive attitude. I enjoy the textures and how they relate to a subject. Most of the time I do not have a preconceived idea on how the finished art work is going to look. Maybe that is why my work varies a lot.