---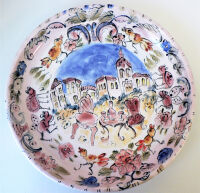 Window Show
October 1st, 2020 - October 31st, 2020
Location:
River Gallery
184 S. Main Street
Independence OR 97351
Sue's ceramic art and paintings have been delighting gallery visitors from the day her work was first shown here. Sue's most recent work will be in our window this October to brighten our fall days, and every month in our main gallery. In her own words, Sue tells us what has inspired her most recent work:
"I have been reflecting on the history of ceramics during the Italian Renaissance and also Pablo Picasso's works in clay. I'm starting my sixth decade at the potter's wheel and my sixth Window Show at the River Gallery in October. Picasso and the Italian Renaissance will be right here with me as I work. My bugs will be with me too."
Please join us Friday's and Saturdays to see Sue's work and that of our other artists. To see her work on our website, go to her page at :
https://www.rivergalleryart.com/artists.php?who=sue-mason