---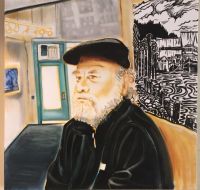 Show
December 5th, 2019 - January 11th, 2020
Location:
River Gallery
184 S. Main Street
Independence OR 97351
Paul will be showing his very new, small, exquisite paintings and some new woodcuts. Chris will be showing an oil painting of Paul with an older woodcut of some moored boats and a few of the "final" bird paintings, as she is becoming more focused on portraiture.
Come early in December to see the show because if anything sells, it goes home with the buyer.