---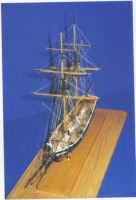 Location:
River Gallery
184 S. Main Street
Independence OR 97351
Dan has a unique talent to share with River Gallery during the month of June 2019. It is difficult to reveal in a single photograph the levels of knowledge, accuracy and craftsmanship required in the execution of his scaled boat and ship models.
In the USA models seem to be considered art as they are usually exhibited or auctioned along with fine art. The Boston Museum of Fine Arts reopened it's ship model gallery in 1982.
He specializes in models of period ships and traditional boats where wood is the primary material. He works from museum plans or contemporary boat construction plans or ship draughts. When possible, he lays up rigging line from fine threads, so the number of strands, diameter and direction of lay will be historically accurate.