---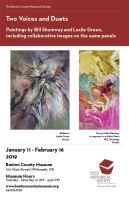 Exhibit
January 11th, 2019 - February 16th, 2019
When two innovative painters work together on the same canvas something special happens. Boundaries are pushed open and new territory is explored. In this exhibit individual male and female interpretations of nature transcend separateness and become a duet - a new kind of joy.
Please join us for an opening reception Friday, January 11, 2019 from 5:00-6:30pm.
Facebook event: https://www.facebook.com/events/302171320422436/
The museum is open Tuesday through Saturday, 10:00 – 4:30. Admission is always free!
Enjoy a visit to Oregon's past AND present! Located six miles west of Corvallis on Hwy 20/34, at 1101 Main Street, Philomath, Oregon, the Benton County Historical Society operates the Museum facilities for the preservation of history and culture. Its goal is to preserve the material culture of Benton County, Oregon. It strives to enrich people's lives through interesting exhibitions and educational programs.
Please call (541) 929-6230 for more information or visit our web site at http://www.bentoncountymuseum.org/