---
Wild Women 2023 - Call to Artists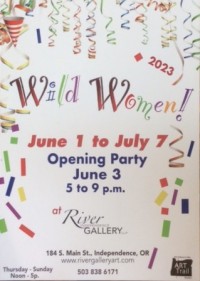 Show
June 1st, 2023 - July 7th, 2023
CALL TO ARTISTS WILD WOMEN 2023
Celebrating the spirit of Women
After a 2 year hiatus, River Gallery's Wild Women show is returning in June 2023. In the past we have chosen a theme for the show, but this year we ask you to choose how to interpret "Wild Women". The world has changed in the last 2 years! Welcome Back!
IMPORTANT INFORMATION AND DATES
Show: June 1 through July 7, 2023
Submission due date: no later than May 1, 2023
How to Submit: To our email address: [hidden email]
Use Subject Heading: Wild Women 2023
You may submit up to three pieces, two and/or three dimensional work of any type
Attach photos of your pieces to your email. Please don't embed the photo in the body of your email. It makes it much harder to set it up for jurying! Jpeg photos only please.
For each piece you submit, include the following information:
Title of piece
Medium
Size
Price (all work must be for sale)
Your name
Submission fee: $10 each. If submitting 3 pieces, $25 for the three. Payment must be received by May 1.
Jurying will take place on May 8th. Notification of acceptance no later than May 12th. Accepted work can be brought in anytime after you are notified. We are open Thursday through Sunday, noon to 4pm (5pm beginning in May).
NOTE: Plexiglass instead of glass if your piece requires it. Hanging method/display should be appropriate to size and weight of your piece if it is to be hung. Please do not use sawtooth hang