---
What's in the Window: July-August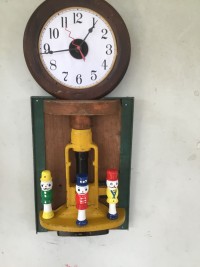 Window Show
July 7th, 2022 - August 29th, 2022
Assemblage and folk artists, Anna Mallard and Ann Durley inspire our window in July and August. Both are founding partners.
Ann Durley
Ann is a collector of interesting objects that can transcend their original purpose. She brings them together in her art pieces that take the form of the occasional mirror or piece of furniture, but her passion remains the creation of clocks. Ann's clocks are hard to resist.
Anna Mallard
Decorative gourds and wall hangings are Anna's preferred mediums. At a conference in the US southwest she became interested in the prehistoric nature and versatility of gourds. The history and continuity of textile art and the folk art traditions of the eastern United States keep her connected to hooked rug pieces.