---
Paul Gentry: A Life's Work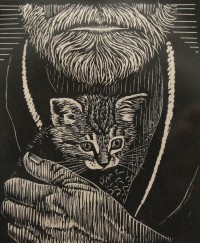 Show and Art Talk
May 12th, 2022 - June 30th, 2022
Paul Gentry: Celebrating a Life and a Life's Work
Opening May 12 and continuing through June of 2022, River Gallery is presenting an exhibit and sale of artwork by the late Paul Gentry.
Paul was a nationally recognized wood engraver and wood block printer, whose prints have been collected by the Portland Art Museum, The Nelson-Atkins, Library of Congress, Smithsonian, Whitney and Guggenheim. Less well known was his passion for pinhole and stereo photography. The exhibit will have examples of each, in addition to his drawings, woodcuts and paintings. The gallery will have prints available that were made by Paul, as well as a limited run of prints from his blocks done by gallery printmaker and partner Carol Chapel. Prices vary according to size, who made the print and whether they are framed. Please contact the gallery if you have questions.
Also, on three Sundays in May the public is invited to Gallery Talks starting at 1:30 in the afternoon.
* May 15 will be an introduction to Gentry's life presented by poet and personal friend, Professor Henry Hughes. Paul and Henry collaborted on several book projects, with Paul's woodcuts complementing Henry's writing.
* May 22 Photographer and River Gallery artist, Rich Bergeman, will explain and show examples of pinhole and stereo photography. Rich is a well known photographer skilled in historical, traditional and experimental photography.
* May 29 Carol Chapel, gallery partner and accomplished printmaker, will talk about methods of printmaking that Paul used including, wood engravings and wood cuts.
Questions from the audience will be invited at all three talks.