---
"New for '22"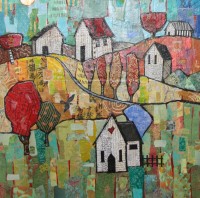 Show
January 6th, 2022 - February 28th, 2022
Our first show of the year is dedicated to all of our talented artists who are the heart of the gallery. As you can see when you browse through our individual artist's pages, the gallery represents a diverse group of two and three dimensional talents, young and seasoned. Putting together this kind of visual feast is always exciting. We hope you are as delighted with the result as we are.
Welcome to a new year of art.
Art work by Deanna White "We are all in this Together"