---
Virtual Masked Ball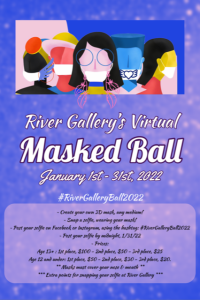 January 1st, 2022 - January 31st, 2022
We've been asked and sadly, we have an answer. There will be no Wild Women Exhibit AGAIN this year. As you know, it's our annual super big blow-out celebration with a test to see how many people can party crammed into the gallery at one time. As fun as that has been, it's just not responsible in the times of Covid. We want to keep everyone safe so we can live to celebrate another day.
However, We are going to have a MASKED BALL! A virtual Masked Ball. With Prizes! Cash prizes!
Here's how that will work:
Create your own 3D mask, any medium! *Mask must cover nose & mouth*
Snap a selfie, wearing your mask! *Extra points for snapping your selfie at River Gallery!*
Post your selfie on Facebook or Instagram, using the hashtag: #RiverGalleryBall2022
Post your selfie by midnight, 1/31/22
Prizes:
Age 13+ : 1st place, $100 - 2nd place, $50 - 3rd place, $25
Age 12 and under: 1st place, $50 - 2nd place, $30 - 3rd place, $20.
So grab your sequins, pipe cleaners, ribbon, fake fur and glue gun and get to creating. Better yet, have a crafting party! Invite your friends and see who can create the most outrageous, colorful, spangly mask around. Take pictures. It does need to be both over-the-top amazing but also practical. It must cover your nose and mouth. But that's the only rule. That's not hard. Who knows? We might have a parade down Main Street. Get on it! We are eager to see what you can create.