---
Holiday Show at the Gallery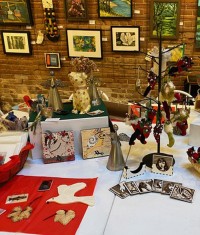 Show
November 4th, 2021 - December 31st, 2021
HAPPY HOLIDAYS from RIVER GALLERY!
Holiday Hours: Wednesday - Sunday, Noon to 4pm during the months of November and December
During the months of November and December 2021, we invite you to our Holiday Showcase of Art. River Gallery has three rooms of festive fine to folk art for you to share with friends and loved ones for the holidays. Affordable original art is available from $5 to $1500 to meet all of your holiday needs. We represent over 70 local artists in the Willamette Valley area.
Events during the holidays:
* Holiday Showcase Open House on Sunday, November 21st, 2021 from Noon - 4:00PM.
* Join us on Saturday, November 27th from 12:00PM - 4:00PM for Small Business Shop Day!
We are a member of "Mid-Willamette Valley Art Trail - Fifty Miles of Art" along the Highway 99 West corridor.