---
Rich Bergeman: Infrared Photographs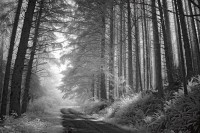 Focus Show
September 1st, 2021 - October 31st, 2021
Location:
River Gallery
184 S. Main Street
Independence OR 97351
Artist's Statement:
"This is a collection of favorite recent images, all but two made this year (the exceptions are from 2019), and all made with digital cameras converted to record infrared wavelengths. I've grown to love looking at the world through this hauntingly beautiful range of light. And I love the challenge of harnessing its more dramatic tendencies in order to create more subtle revelations of the Northwest landscape, like fog-shrouded forest trails and the elegant patterns formed by high-altitude cirrus clouds.
The infrared light range lies just above the visible spectrum--too high for the human eye to see, but it's there just the same. It records vegetation and other organic objects as glowing highlights rather than the middle grays of straight black-and-white photographs, reversing the tonal ranges we're accustomed to seeing (perhaps the best example of that in this show is "Lily Pad Pond"). Infrared transforms the skies overhead as well--on a fair day, the cold blue atmosphere registers as a deep dark value, creating a wonderful canvas for those feathery cirrus clouds as they play across the sky.
The images in this show were made from one end of Oregon to the other; from the Malheur Refuge in the High Desert country to Cascade Head and Astoria on the coast. Two photographs were made right here in beautiful downtown Independence-- "Daylight Moon Over the Willamette" and "View From the Land of the Luckiamute Kalapuya"