---
Carolyn Taggart and Rebecca Arthur Ceramic Arts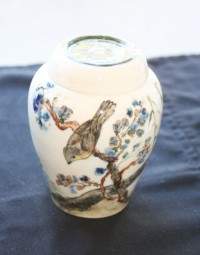 Window Show
July 1st, 2021 - August 29th, 2021
Location:
River Gallery
184 S. Main Street
Independence OR 97351
See two wonderful ceramic artists in our window this July and August: Carolyn Taggart and Rebecca Arthur.
Rebecca Arthur
My work is hand built, wheel thrown or a combination of both. I concentrate on low fire techniques such as raku and pit firing. Raku firing is done quickly, reaching the desired temperature in under an hour. The white-hot pieces are then pulled from the kiln and cooled rapidly in open air, submerged in water, or smoked in combustible material. Pit firing is a wood fired technique where I am able to "paint" the pieces with fire and smoke. In both methods the results vary widely and I delight in the random, unpredictable, almost surreal results. In 2014 I had the opportunity to explore the Medieval Eastern European low-fire technique called obvara, where glazing makes the ceramics relatively watertight and which also yields random, unpredictable results.
Carolyn Taggart
My work on the potter's wheel began in 2018, a skill acquired rather late in life. And thanks to some comprehensive training received from ceramic artist and educator, Sue Mason, also of Monmouth, Oregon, a dream became reality and my journey with porcelain began. Beauty in the natural world influences my work. The detailed carving is representative of patterns found on sand and rock; the colors and hues are of those seen in rivers and streams. Nature provides a common language among cultures. My intention as an artist, is to form clay into vessels that evoke harmony and peace.