---
Duet: Anna Mallard and Ann Durley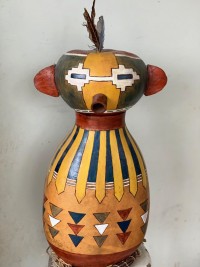 Window Show
May 2nd, 2021 - June 27th, 2021
Location:
River Gallery
184 S. Main Street
Independence OR 97351
"Duet" brings together the work of two artists who are inspired by folk art traditions.
Anna Mallard: Anna's work for this show includes decorative gourds and hooked rugs. The colors and shapes included in many of her pieces reflect her respect for traditional work, combined with her love of whimsey and her own creative folk-art style.
Ann Durley:
"I have now made over 1600 clocks and still have lots if ideas for more. I am excited to share my new clocks, but also furniture and some new pieces that I have been artistically exploring."