---
Complementary Perceptions: Barb Meyer and Chris Hannegan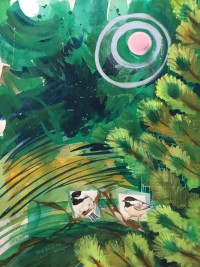 Focus Show
May 2nd, 2021 - June 27th, 2021
Location:
River Gallery
184 S. Main Street
Independence OR 97351
"Complimentary Perceptions" celebrates two artists' shared love of nature, the unique way that we each interact/react to outdoor spaces, and what an artist's internal editor does with what we see: A bird sitting in a tree, in a field: one sees the intricate relationship of the bird in the light playing in the tree, one focuses on the movement of the grass and it's relationship to the sky.
Artist's Statement: Chris Hannegan
"I call this group of Flashe' ( vinyl ) paintings , "The Bird House Series ." They were all inspired by the changing view of the hillside outside my bedroom window coupled with the unobtrusive visitors. White-crowned sparrows, chickadees, pine siskins and hummingbirds make their homes in the hillside . "
Artists's Statement: Barb Meyer
"These paintings stem from a once in a lifetime visit to the Ruby Mountains in Nevada. A different sort of peace found in muted colors, seemingly empty spaces, vast skies. So different from the Willamette Valley.