---
Focus Show: Carol Chapel "Four Seasons"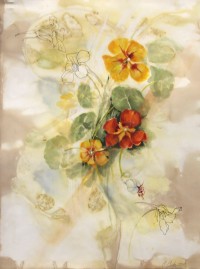 Show
March 5th, 2021 - April 30th, 2021
Location:
River Gallery
184 S. Main Street
Independence OR 97351
Partner, Carol Chapel, is our focus artist for March and April. Carol's statement about this series:
"When I started this series of drawings I had no idea that it would parallel a World Wide pandemic. My intent was to do some drawings during each of the four seasons. And I did.
The paper is hand dyed with the plants that were abundant during that season. The drawings are of the plants (mostly) that were apparent at that time. They are not necessarily the same plants".
To see more of Carol's work, see her webpage: https://www.rivergalleryart.com/artists/carol-chapel/