---
Window Show: Dale Bunse "Pot Luck"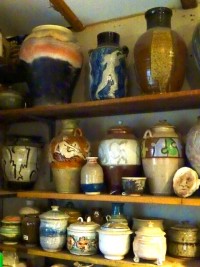 Window Show
January 15th, 2021 - February 28th, 2021
Location:
River Gallery
184 S. Main Street
Independence OR 97351
Bringing in the new year with style, color and a hint of playfulness, is Dale Bunse's window show "Pot Luck", a celebration of the ceramic art. Dale say this about his life's work:
"I am a practicing artist living in Independence, Oregon. In my work I am searching for images that reflect the energy, pulse and excitement of landscape and life. I want the viewer to be involved and to recognize the rush of creativity. All my works are attempts to control media, master the craft and accept the accidental elements that can breathe life into a piece".
Come and see the wide variety of Dale's work this January and February.