---
January Focus Artist: Becki Hesdahl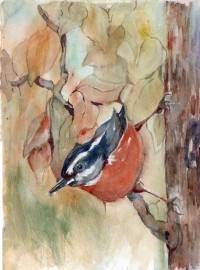 Show
January 15th, 2021 - February 28th, 2021
Location:
River Gallery
184 S. Main Street
Independence OR 97351
Becki's statement about her work:
"I believe each person is gifted with a creative space in his or her soul and it is our personal responsibility to seek and discover how to express our creativity. At this time in my life I express myself in transparent watercolor, other water-based mediums, drawing and recently oil and cold wax.
I love the juicy, tasty, luminosity of transparent watercolor paint. I love to experiment with contrasts of colors, lights/darks and textures. I also using collage and oil and cold wax medium."
One of my favorite subjects is the intimate landscape — the close-ups of nature. The intimate landscape paintings become more than a portrait of a plant; they are transformed into a microcosm of the world"
[br] [br] [br]