---
Holiday Show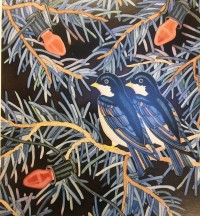 Show
November 6th, 2020 - December 31st, 2020
Location:
River Gallery
184 S. Main Street
Independence OR 97351
Our Holiday Show will begin Friday, November 6th Our holiday hours are Friday, Saturday and Sunday noon to 4pm.
We are also open for appointments outside of regular hours, for individuals or small groups, if staffing is available. Please contact the gallery by phone during our open hours, or email us with your request.
The holiday show is one of our favorites, with work from all of our artists. Many of our artists focus on smaller works that make wonderful gifts. A lovely time to wander through the art.
"Art is an expression of joy and awe. . . "
Playwright, David Mamet