---
Artists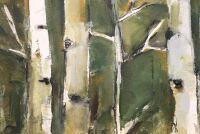 Contract Artist


Susan Appleby
Biography
Susan Appleby
Acrylic, Mixed Media, Mosaic -> www.susanappleby.com
Artist Biography
A local award-winning artist, Susan creates bold and expressive paintings with acrylic and mixed media. The energy of nature is explored in her paintings of birds, flowers and landscapes. Exploring the outdoors and taking photos of nature and structure are used as inspiration. Composition and a loose impressionistic style are important to help bring life to the subjects, and depth and movement into her work.
Susan attended the Academy of Art, in San Francisco after high school and continued taking workshops to further her interest in painting, drawing, stained glass and mosaic. A professional career of over 25 years as a graphic designer, helps composition and color stand out in her art.
In the last few years, she has had time to concentrate on painting and realized how much joy the process of creating art brings. Her impression of nature with bold colors and shapes each represent a moment in time.
Susan is a member of Artists in Action, Salem Art Association, Hallie Ford, and Sitka Center for Art and Ecology. She is a part of ArtMarks, a local critique group and a previous member of Red Raven Gallery. She has had solo and group shows in the Salem area and has been honored with several awards.
Awards
CCTV Sponsor Award - December 2016 - Eagle Totem - Artists in Action - Something Red 1st Place – September 2015 - Shorebirds at Basket Slough - Artist in Action - Paint the Town 1st Place – July 2015 - Coastal Driftwood - Red Raven Gallery - Valleys & Views 2nd Place – April 2015 - Mosaic Timepiece - Red Raven Gallery - Tick Tock Clock
2nd Place 2D – December 2014 – Five Red Trees - Artists in Action - Something Red 3rd Place Photography - December 2014 – Fall Trees at Minto - Artist in Action - Something Red Honorable Mention – May 2014 – Tulip Fields - Keizer Art Association - Celebration of Flowers Honorable Mention – October 2013 – Down by the Creek - Artists in Action - Paint the Town
Solo Shows
December 2019-January 2020 - Roy John Designer Goldsmith, Salem OR February-July 2019 - Elsinore Framing and Fine Art Gallery, Salem, OR August 2018 - Lunaria Gallery, Silverton, OR (with Carolyn Canoy) July 2018 - Dave Wilson Designer/Goldsmith - Salem OR
June, 2018 - Roy John Designer Goldsmith, Salem OR October 2017 - Dave Wilson Designer/Goldsmith - Salem OR August 2016 – Roy John Jewelers, Salem OR November 2015 – Travel Salem, Salem OR October 2014 – Art Department, Salem OR November 2013 – Dave Wilson Designer/Goldsmith - Salem OR August 2013 – Papa Divinos, Salem OR Group Shows
September 2017 – ArtMarks - Lunaria Gallery - Silverton OR September 2017 – ArtMarks & Red Raven - Keizer Civic Center - Keizer OR May - June 2017 – Featured Artists Showcase - Elsinore Framing and Fine Art Gallery - Salem OR Nov. - January 2017 – Featured Artists Showcase - Elsinore Framing and Fine Art Gallery - Salem OR September 2016 – Red Raven Gallery - Keizer Civic Center - Keizer OR April 2016 – ArtMarks - Elsinore Framing and Fine Art Gallery - Salem OR November 2015 – ArtMarks - Roy John Goldsmith - Salem OR September 2015 – ArtMarks - Art Department, Salem OR May 2015 – ArtMarks - Ugly Mug, Sellwood OR April 2015 – Artists in Action - CCTV - Salem OR September 2014 – ArtMarks - Grand Vines, Salem OR
Juried Shows
May 2017 – Elsinore Framing and Fine Art Gallery - May Flowers - Salem OR December 2016 – Artists in Action - Something Red - Salem OR November 2016 – Elsinore Framing and Fine Art Gallery - Minatures - Salem OR October 2016 – Artists in Action - Paint the Town - Salem OR
September 2016 – Art Department - Mini Show - Salem OR August 2016 – Currents Gallery - Cityscapes - McMinnville OR December 2015 – Artists in Action - Something Red - Salem OR October 2015 – Artists in Action - Paint the Town - Salem OR July 2015 – Red Raven Gallery - Valleys & Views - Salem OR April 2015 – Red Raven Gallery - Tick Tock Clock - Salem OR December 2014 – Artists in Action - Something Red - Salem OR July 2014 – Salem Art Association - Radius 25 - Salem OR
May 2014 – Keizer Art Association - Celebration of Flowers - Keizer OR October 2013 – Artists in Action - Paint the Town - Salem OR