---
Artists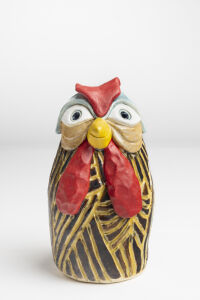 Art has been my passion and comforter for a very long time. Watercolor, acrylics, wood carving in 2D and 3D, block printing, the list goes on. One day I pressed my wooden block carvings into a slab of clay. This evolved into direct ceramic relief carving. Then came wheel throwing and slab building. That smooth, cool, supple clay had me hooked.
Purchasing several "How To" books on ceramics came next. One on pinch-pots stirred my imagination. I started making animals and then I had an idea they wanted to be useful, so I made them into banks. Next came the bank houses made from slabs of clay cut and pieced together. These provided a space for painting designs. One day it came to me to put a little bird on top. Of course, a bird needs a birdhouse and a way to get inside, so now they have their own homes.
I hope you enjoy these whimsical banks.
Michelle Mills – Dallas, OR
---