---
Artists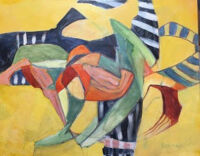 Biography
I migrated to Oregon from North Dakota in the early 1960,s. In 1970 I met and married Dan Brummer. When the youngest of our four children started school, i re-enrolled at OCE, commuting from Stayton to Monmouth on a daily basis and reveling in art and philosophy. Studying with Larry Stobie was a formative experience for my art and teaching.
All my work controls me; at base it is concerned with mythology in all it's forms, which i see as a direct reflection on our lives.
All my paintings start the same...what should I put on this canvas? Tentatively I paint the basic outlines, defining space and dividing the composition. Next, color begins to be added...and from then on it's anybody's guess.
While finding the exploration many art mediums and styles fascinating, my major delight is in acrylic painting and mixed media collage, allowing the work to take on a mind of it's own. Now shapes are changed, composition re-defined and color decides where it wants to be. Often, at some point, this calls for the addition of new textures in the form of collaged materials, again resulting in painting out and/or over the initial effort.
I sometimes wonder how it would feel to have the work turn out like an originally envisioned image, but you know, deep in my heart, it would be a shame to miss out on the struggle and excitement of the ongoing collaboration with the process.
I believe Art exists for as many reasons as there are artists. It keeps us alive...emotionally, intellectually, and spiritually. It moves us.
---