---
Artists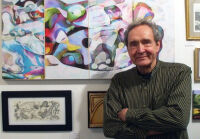 Associate


James L Hockenhull
Biography
"I want my work to be a vehicle which takes me places I've never been before"
Jim Hockenhull hold a BFA from the University of Illinois and a MFA from the University of Iowa. He has taught at the university level and has exhibited widely here and abroad.
Jim is also a musician, four time Senior Champion of the Oregon Old-time Fiddlers, with a passion for authentic old-time and Cajun music. Born and raised near Chicago, his life has led him progressively westward. He now lives and works with his wife, Jo, in Salem, Oregon.
Learn more about Jim's art and music at: http://www.jimhockenhull.com. You can also "like" Jim on Facebook www.facebook.com/hockenhullart.
---