---
A Creative Partnership: Harold and Sue Mason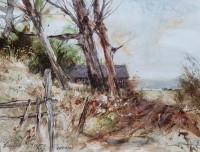 Show
August 4th, 2022 - August 30th, 2022
A lovely August show in our 3rd gallery with Sue and Harold Mason. Harold and Sue have a loving and creative partnership now entering their sixth decade.
Harold has worked in many different mediums throughout his career, but his current mediums of choice are watercolor and pen and ink. His work has been featured in the de Young Art Museum in San Francisco, California and he is a past member of the West Coast Watercolor Society.
Sue's career has taken many paths as well, but her current passion is ceramic art.